ThinkZoom™ Universal 6 in 1 Phone Camera Lens
Grab your ThinkZoom™ Universal 6 in 1 Phone Camera Lens while the Store LAUNCH DISCOUNT is on!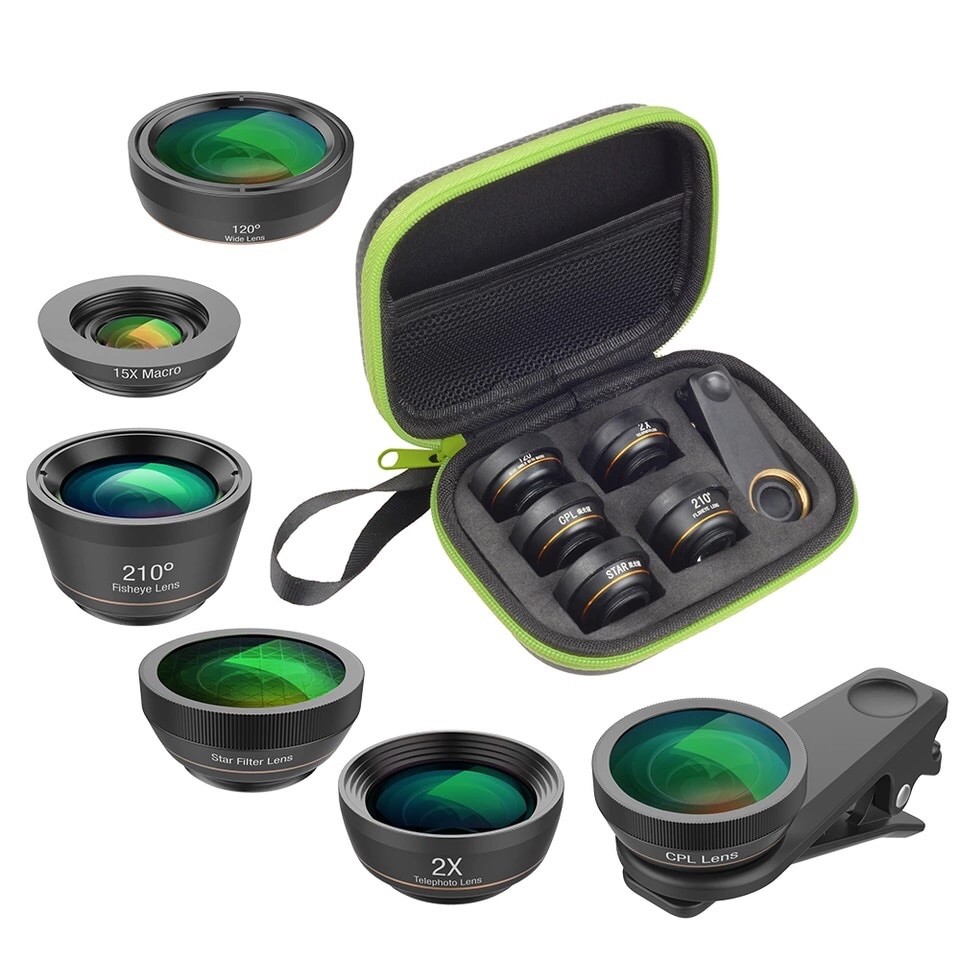 Fish-eye lens can make photos have strong perspective effect and enhance the appeal.  Wide Angle lens with wide field of view. The depth of field is long The macro lens is 15 times macro with an effective focusing distance of 2-3cm The zoom lens is 2-fold, which can increase the optical focal length of the phone, suitable for portrait shooting. Polarizing lenses are often used in color and black and white photography to eliminate or reduce the glare of non-metallic surfaces, thereby eliminating or lightening spots The starlight lens can change the light source in the picture into 4-line star-points, creating a romantic and childlike mood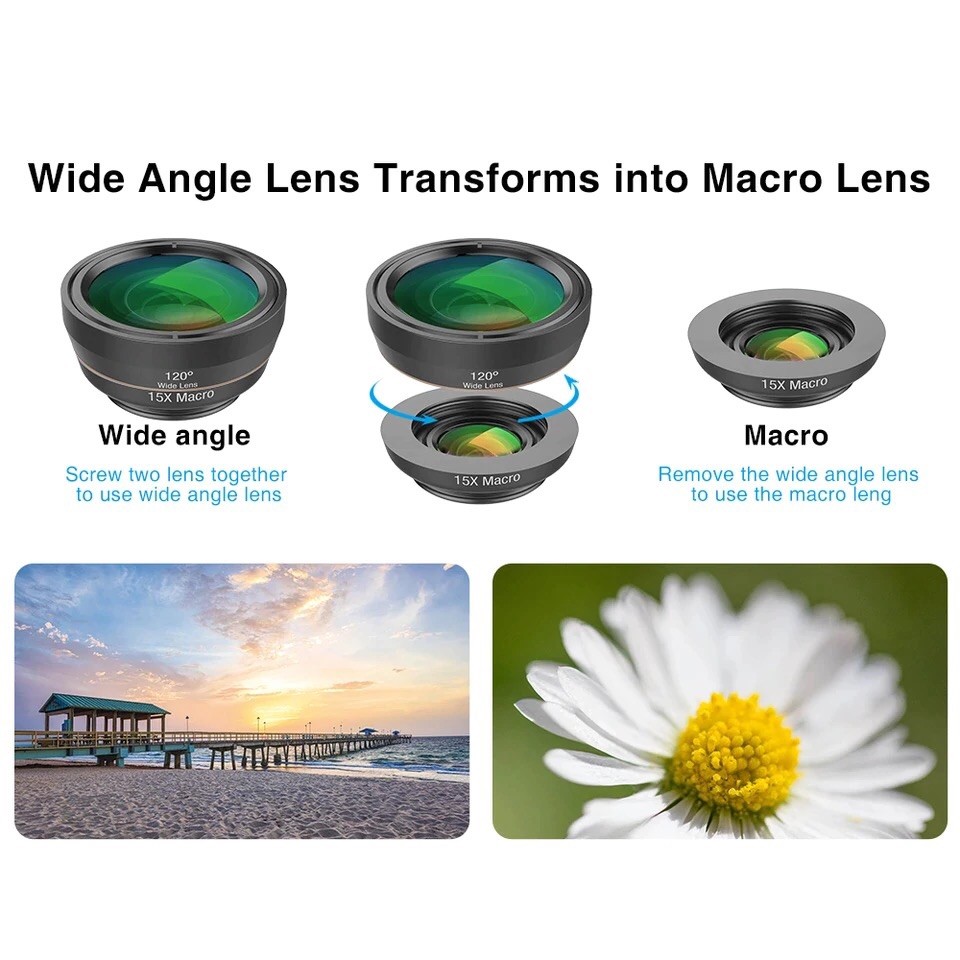 Features:
6 In 1 Phone Camera Lens Kit: Fisheye + Wide Angle Macro +CPL + Telescope Lens + Star Filter Combination 6 in 1 universal external mobile phone lens kit

 It was made up of imported optical lenses,blue film plating technology,Imported optical lens enhances light transmission and is bright and transparent , high quality aluminum alloy frame reduces flare, beautiful and durable.

 Portable and detachable, you can take photo with your devices at any time anywhere,easy to use:1,Screw it tightly.2,Aim at the center of your phone lens.3,Clip it on your phone

Compatible: Soft pad universal clip(compatible with 98% mobile phones and tablets in the market) can protect your phone from scratching,and it will not get loose and slip off when using

What You Get: Fish Eye Lens x 1,Wide Angle ( Macro Lens) x 1,Wide Angle Lens = Wide   Lens +  Marco Lens,2X telescope lens x 1,CPL x 1,Star Filter x 1,Lens Cap x 5,Universal clip X 1,EVA bag X 1,Cleaning cloth X 1,User manual X 1,Retail box X 1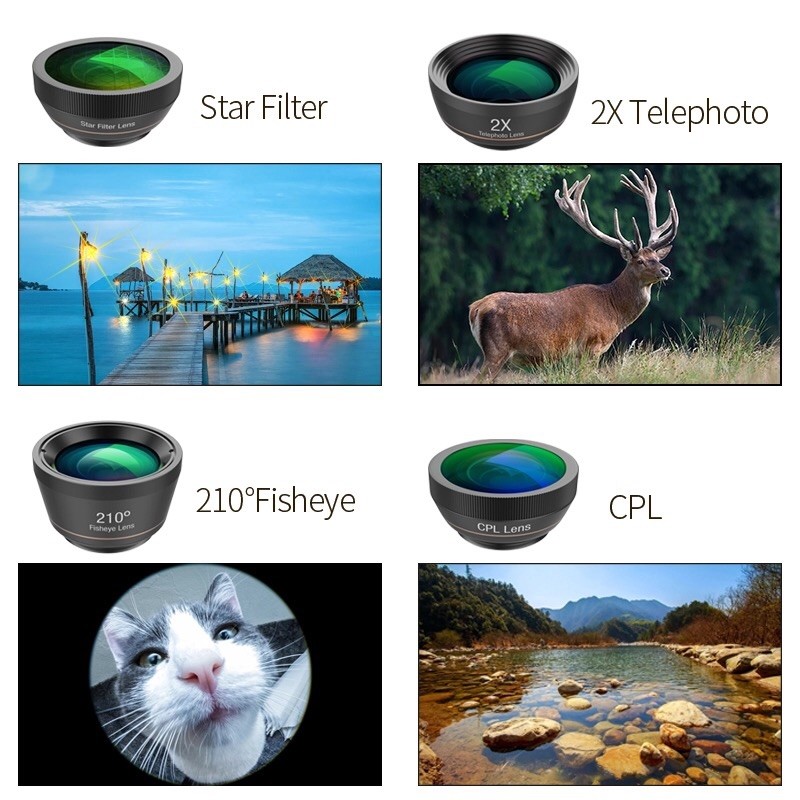 Details: 
Compatible Brand: Apple iPhones,Panasonic,Sony-Ericsson,Toshiba,HTC,Blackberry,LG,Nokia,Motorola,Samsung,Palm
Model Number: Phone Camera Lens
Shape: Oval
Phone Camera Type: Wide-Angle Len
Product: 6 in 1 camera lens kit
Packing: with retail box
Colour: black
Material: highest quality optical glass
Compatible with : For iPhone/HTC/Samsung and others mobile phone
is_customized: Yes
Specifications:
Portable and detachable, you can take photo with your devices at any time anywhere Work on most type of mobile phones that are not bigger than 13mm diameter.
High Clarity: Made of high-class glass
Strong: Made of top-grade Aluminium
Color: black   
Applicable to any devices The Flash Light will be blocked when the lens is in use.
 Specifications (Fisheye lens) 
 Angle: 210 degree   ,  Magnification: 0.22X

Lens Construction: 3 elements in 3 groups

Max Diameter: 25mm

Length: 15mm 
Specifications (Wide Angle Lens) 
Magnification: 120 degree wide angle
Lens Construction: 2 elements in 2 groups
Max Diameter: 20mm
Length: 5mm
Specification:(Macro Lens) 
Magnification: Super 15X Macro
Lens Construction: 1 element in 1 group
Max Diameter: 20mm
Length: 6mm
The shot distance is between 10~23mm  

 


Specification(Telescope Lens)
Magnification: 2X Telescope
Lens Construction: 2 elements in 2 groups
Max Diameter: 20mm
Length: 11mm  
Specification(CPL Lens) 
Lens Construction: 2 elements in 2 groups
Max Diameter: 20mm
Length: 8mm  
Specifications(Star Filter)
Lens Construction: 2 elements in 2 groups
Max Diameter: 20mm
Length: 8mm 

Package Content:
Fish Eye Lens x 1
Wide Angle (Marco Lens) x 1
Wide Angle Lens = Lens Large + Marco Lens
2X telescope lens x 1
CPL x 1
Star filter x 1
Lens Cap x 5
Universal clip X 1
EVA bag X 1
Cleaning cloth X 1
User Manual X 1
Retail box X 1